the underground resistance books of note.
the rules:
1

the following details must be included (so it makes it easy to find the books in your local library, or online or wherever)
title, author, publisher, asin/isdn number, and a mini review preferably by you. nothing big, just why you like it and why you think others might like it. also you might like to list similar books of interest in the particular genre.
2

there may be further rules as i think of them. oh yeah, um i will check the books posted to make sure they are still available. no point in recomending a book nobody can buy y'know.
3

i would prefer not to promote amazon, if you have other sites to use please supply them with reviews.
once the list gets a bit bigger, i might split it up into areas of specific interest. thanks to scope for providing a layout that looks nice.
title:
deep cover
author(s):
michael levine
publisher:
iuniverse publishing services; 1st edition (february 1, 2000)
isbn:
0595092640
cover:
mini review:
book description
deep cover, a new york times non-fiction bestseller, is a first-hand account of how the cia, state and justice departments teamed up to destroy a dea undercover sting operation that threatened to expose us government ties to drug-financed governments in mexico, panama and bolivia. written by michael levine, the man 60 minutes called "america's top undercover cop."
about the author
michael levine, the host of the expert witness radio show, is a 25-year veteran of the drug enforcement administration and one of its most highly decorated officers. as an author his books include the community anti-drug plan fight back and fact-based fiction triangle of death, with laura kavanau.
link to buy:
http://www.amazon.com/exec/obidos/tg/detail/-/0595092640/ref=pm_dp_ln_b_6/104-6772266-8868717?v=glance&s=books&n=507846&vi=reviews
submitted by:
evol intenter[/quote]
_____________________________________________________________
title:
the paperclip conspiracy - the hunt for the nazi scientists
author(s):
tom bower
publisher:
little brown
asin:
0-316-10399-3
cover:
mini review:
documents the plundering of the third reichs scientific achievements by the allies, and the discrete export to the us of the nazi scientific elite.
link to buy:
uh, i got my copy at the local 2nd hand joint, but it can't be that hard to find.
submitted by:
sjef
_____________________________________________________________
title:
the spanish anarchists: the heroic years 1868 to 1936
author(s):
murray bookchin
publisher:
ak press
asin:
187317604x
cover:
mini review:
a very fine book about the spanish anarchists from the very beginning up to the spanish civil war. though bookchin cannot hide his sympathy towards the anarchists the book remains correct on the historical facts as far as i can tell.
this book is good historical reading and generally considered one of the finest books on the topic.
link to buy:
ak distribution
submitted by:
cp_ffm
_____________________________________________________________
author(s):
various
publisher:
acab press, london, 1990
asin:
none
cover:
mini review:
several eyewitness accounts of the trafalgar square riots on 31st march 1990. this 70 pages pamphlet is good, entertaining reading and clearly shows that people have power. it was fun reading just several months after the riots while staying in london. :d
link to buy:
http://www.akuk.com/mainpage.php?thissub=21
submitted by:
cp_ffm
_____________________________________________________________
title:
afghanistan: soviet vietnam
author(s):
vladislav tamarov & naomi marcus (translator)
publisher:
mercury house; (may 1992)
asin:
1562790218
cover:
mini review:
this book offers an amazing insite into what the soviet war in afghanistan actually meant to the thousands of young russian boys that went there. it contains a small essay covering personal experiences from the draft to a meeting with american vietnam veterans years later. vladislav tamarov was a photography student at university in lenningrad until he was drafted into the army in 1985. he became part of an elite paratrooper company that spent long periods on deep patrols. being a photography student, he took his camera, and the results are what the book is really about. amazing personal images of every part of life in afghanistan... from the sadness of loosing a friend to the elation of returning alive. and the ultimate emptiness of leaving the warzone. the images in the book won vladislav several awards after the war - after which he completely left photography.
link to buy:
here
submitted by:
_cform
_____________________________________________________________
title:
no logo: no space, no choice, no jobs
author(s):
naomi klein
publisher:
picador; (april 2002)
isbn:
0312421435
cover:
mini review:
"resistance is growing, and the backlash against the brands has set in. street-level education programs have taught kids in the inner cities, for example, not only about nike's abusive labor practices but about the astronomical markup in their prices. boycotts have commenced: as one urban teen put it, "nike, we made you. we can break you." but there's more to the revolution, as klein optimistically recounts: "ethical shareholders, culture jammers, street reclaimers, mcunion organizers, human-rights hacktivists, school-logo fighters and internet corporate watchdogs are at the early stages of demanding a citizen-centered alternative to the international rule of the brands ... as global, and as capable of coordinated action, as the multinational corporations it seeks to subvert." no logo is a comprehensive account of what the global economy has wrought and the actions taking place to thwart it." - amazon.com
link to buy:
amazon.com - click here
submitted by:
statto
_____________________________________________________________
title:
the silent takeover: global capitalism and the death of democracy
author(s):
noreena hertz
publisher:
free press; (june 2002)
isbn:
b00008jyq5
cover:
mini review:
cambridge university economist hertz asserts that reagan's and thatcher's brand of free market capitalism has had dire social and political repercussions, although it has triumphed as the dominant world ideology and brought prosperity to many. she sensibly argues that with government in retreat from its traditional rule-setter role, multinational corporations have grown so powerful 51 of the hundred biggest economies in the world are corporations that they determine political policies rather than operate subject to them. market success may rule, but hertz laments that the state, in appearing to serve business, may be nullifying democracy's social contract to represent and protect the rights of all citizens equally. wto protests and activism reinforce her sense of growing political discontent not only about income distribution effects (97% of the increase in income over the past 20 years in the u.s. has gone to the top 20% of the families) but also about human rights issues. campaign finance realities, declining voter participation, increasing alienation and terrorism amid glowing corporate results represent an urgent cry for reform to hertz. since corporations are not designed and cannot be expected to serve a general population's social and political needs, she argues that democracies need to move toward a realignment between the state's political power and the corporations' economic power so that all people have a positive stake in world economic progress. hertz maps out a proposed agenda, and her eloquent call to action deserves the attention of every concerned citizen of our troubled world. - publishers weekly
link to buy:
amazon.com, click here to buy
submitted by:
statto
_____________________________________________________________
title:
fast food nation
author(s):
eric schlosser
publisher:
houghton mifflin
isbn:
0395977894
cover: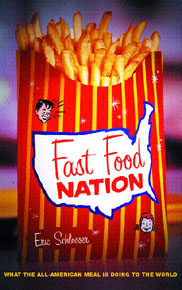 mini review:
'fast food nation has lifted the polystyrene lid on the global fast food industry … it could even change the way we eat' observer
'not only will it make you think twice before eating your next hamburger … it will also make you think about the fallout that the fast food industry has had on the social and cultural landscape' the new york times
'the grisliest description of fast food ever written' daily telegraph
'if the idea of a three-storey, illuminated ronald mcdonald strikes you as a blight on the landscape, this book is for you' globe and mail
link to buy:
amazon.com - click here to buy
_____________________________________________________________
coming soon:
george monbiot - captive state
michael moore - stupid white men
what's so great about america -- dinesh d'souza
letters to a young conservative -- dinesh d'souza
slander: liberal lies about the american right -- anne coulter
voltaire's bastards
- john raulston saul
guns, germs and steel
- jared diamond
highly recommended, discusses why europe and the west became the dominant cultural group over the past 10 000+ years, by comparing to other major groups in the world.
heroes, and hidden agendas, by john pilger
september 11th, noam chomsky
what's so great about america -- dinesh d'souza
letters to a young conservative -- dinesh d'souza
slander: liberal lies about the american right -- anne coulter
the world we are in - will hutton
twentieth century america - a peoples history - howard zinn
the commercial reviews here are all good, but i would like your reviews if possible