23rd February 2006, 05:00
April 2006, Incognito Artist Management brings you

SEBA & PARADOX – 2006 US TOUR!!!


SEBA
(Secret Operations / Metalheadz / Paradox Music) Stockholm, Sweden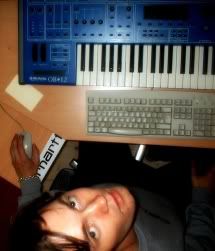 Swedish producer Seba has been making top quality tunes for a number of years, with a string of releases on Good Looking Records and some house excursions for Svek under the alias of Sunday Brunch.
Originating from Ingaro, an island just outside Stockholm, Sebastian Ahrenberg started producing in the early 90s. Working with a basic home studio, he began by making techno, but soon progressed to a more breakbeat-orientated sound, which is know today as drum and bass. Seba collaborated with Lotek on the track 'Sonic Winds', which was the first of Seba's tunes to be released on Good Looking. The duo made another appearance with 'Universal Music', which was included on Logical Progression 2. This was followed by a number of singles by Seba as a solo artist - by this time he was rapidly gaining a reputation as a talented producer, creating tunes such as the rich, ethereal 'Valley Of The Moomins'.
In 1997 Seba started the club Secret Operations. The club went through a long range of successful nights down in a cellar called Tuben in central Stockholm. In 1999 the club was transformed into a record label and released a CD compilation entitled "Case One", and featured artisits such as: Alaska, Future Engineers, and Lo-Tek. Due to known and unknown circumstances the label disappeared out of sight after the SOCD001 release.
However, the label didn't sease to exist, it was mearly cloaked and invisible, simply waiting for the right time to strike again! That time has finally come, and the first release on Secret Operations in years surfaced in December 2002.
Releases in 2004:
Seba feat Robert Manos - make my way home - offshore recordings
Seba & Lenk feat. Robert Manos - 16 stories - Metalheadz MDZ4
Seba & Lenk feat Robert Manos - captain freak - secret operations
Seba feat Robert Manos - steel paradox music
Seba & Paradox - you didnt see it - paradox music
Seba - breaks selection - combination records
Releases in 2005:
Seba & Paradox feat robert manos - move on - hospital records
Seba & Paradox - it's not a dream - paradox music
Seba & Lenk feat robert manos - every man for himself - bassbin compilation
Seba & Paradox - frost - bassbin
Seba - shapeshifter - secret operations
Seba & Paradox - remembrance - secret operations
Seba & Paradox - planet...stars - freak recordings
Seba feat Robert Manos - make peace - vibez recordings
Seba & Paradox feat Robert Manos - last goodbye - paradox music
AND
PARADOX
(Metalheadz / Paradoxmusic.com / Secret Operations) London, UK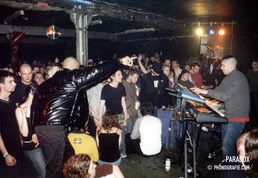 Paradox is International music producer and breakbeat icon Dev Paradox. His career started back in 1989 when 'Mixrace' was formed with partner DJ Trax. The first professional recording by Mixrace was in 1990 and was produced by the Plastic Jam (of Labello Blanco).
After brief relations with Surburban Base and Strictly Underground Records the first Mixrace 12" surfaced in 1991 on the early Moving Shadow Records Label. Both producers only 17 at the time released the early Mixrace Hardcore classic 'Too Bad for Ya/The Future is Before Your Eyes' (SHADOW 01
.
Four more releases followed on the Moving Shadow label and in 1995 Dev and Trax set up their own Stronghold, Mobhanded and Offset Recordings labels.
New artist guises surfaced in 1996 in the forms of 'Alaska' and 'Paradox'. Dev wanted to show his diversity by creating two different genre's of Drumfunk with Alaska being the ambient monkier of the two, and Paradox exploring the drum patterns of 1970's funk.
As Trax started to program breakbeat at different tempo's, Paradox's sound took off in another direction with a string of releases on Renegade Hardware, Certificate 18 and Reinforced Records.
Eight years on and Dev has now recorded for over an amazing 50 record labels including Goldie's Metalheadz, 4-Hero's Reinforced Records, LTJ Bukem's Good Looking, London Elektricity's Hospital, Certificate 18, Partisan, Dylan's Freak Recordings, Renegade Hardware, Timeless, Total Science's CIA, Blame's 720 Degrees, Nexus, Danny Break's Droppin Science, Dylan's Freak Recordings, Subject 13's Vibez Recordings, Twisted Funk, Toshiba-EMI, Ninebar, Sonica, 2000 Black, Sheebeen, Form-3, Holland's Rush Hour Records, New York's Offshore Recordings, and Italy's Archive Records.
Paradox also runs his own 3 records labels Outsider, Esoteric and Paradox Music alongside the heavy release schedules for other worldwide labels.
In the studio music collaborations have included artists such as Sweden's prolific Seba, Nucleus, EZ Rollers, Flytronix, Subject 13, Volcov and legendary Jazz Musicians Bill Laswell, Herbie Hancock, rocker Iggy Pop and Funk legends Weather Report.
Paradox remixing duties include 4-Hero for Talkin Loud/Mercury, Yasushi Ide for Warner Brothers, Boom Boom Satelites for Sony/Epic, LTJ Bukem and Makoto for Good Looking, Classical Indian legend Shobha Gurtu, Justice, IlLogik & Raf, James Hardway, NXS, Blue and DJ Trax for Lacerba.
Paradox was invited to create music for the Arcade game giant Konami Entertainment plus exclusive written works for Sony Playstation and Japanese Manga Cartoon Company Marine Entertainment/Avex inc.
Paradox returned to the multi-media market this year and 2005 saw Paradox's work placed on the NBA ESPN Playstation2/Xbox Basketball game alongside other tracks from Public Enemy and the Roots.
Dev Paradox has released two albums on major label Sony Music Japan throughout his career, and 2004 also saw Dev release not one but TWO albums on Vibez Recordings and Reinforced Records respectively.
Paradox has exclusive endorsement deals with Firetrap Clothing, Acupuncture footwear and Bloc Eyewear.
Dev Paradox is also without doubt a live touring machine outside the studio. Paradox has performed over 100 overseas live performances. Every month of the year you can catch Paradox's one-man-band live show truely worldwide.
Paradox has visited all corners of the globe and has headlined live shows in East, West Coast and mid-west America, Japan, Asia and literally all over Europe from London to the outer regions of Russia and Iceland.
Paradox also performed live in the BBC studio's for the BBC's digital radio service 1Xtra, a first for a Drum and Bass artist on National UK radio.
2005 has been Dev's busiest year to date. Apart from re-visiting all corners of the globe Paradox has been invited to remix non other than Jazz legend HERBIE HANCOCK. A true representation of todays funk technicians from the past, the present and the future.
2006 sees the release of yet another TWO artist album's from mr Pandya, plus the constant spray of 12"s and live worldwide tours every month of the year.
Let the Drumfunk roll....
http://www.paradoxmusic.com
For booking inquiries, please contact:
Ashley Collier
Incognito Artist Management LLC
Ph: 202.421.6633
Fax: 202.204.4864
AIM - incognitoagency
ashley@incognitoagency.com
http://www.incognitoagency.com